Coastal style bedroom decor is all about creating a relaxing and rejuvenating space that evokes the laid-back atmosphere of the beach. Whether you live near the coast or just want to bring a bit of that beachy vibe into your home, incorporating coastal elements into your bedroom decor can have numerous benefits. In this article, we will cover the use of cool, neutral colors and natural materials that help you to create a calming coastal bedroom.
Choosing a Color Scheme:
Cool, Neutral Colors: Cool, neutral colors are a key element of coastal style bedroom decor. Light blues, greens, and grays can all be used to create a serene and beachy atmosphere. These colors help to create a calming and relaxing environment, making them perfect for a bedroom.
Pops of Color: While cool, neutral colors form the foundation of a coastal style bedroom color scheme, adding pops of color through accent pieces can help to add visual interest. Consider incorporating throw pillows, wall art, or other decorative items in shades of turquoise, coral, or other bright colors to add a touch of playfulness to the space.
Popular Color Palettes: A popular color palette for a coastal style bedroom includes a combination of sandy beige, crisp white, and pops of turquoise or coral. This combination creates a cohesive and stylish look that is both classic and modern. Other options include pairing light blue with white and natural wood tones, or using a monochromatic color scheme with various shades of blue or green.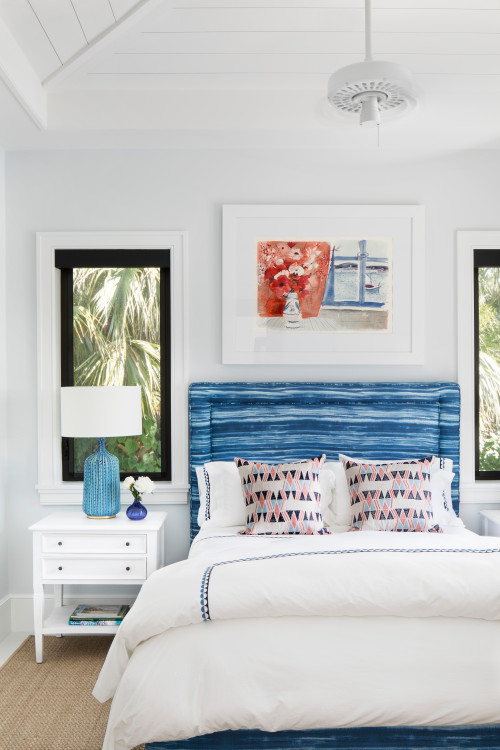 Selecting Furniture and Decor:
Natural Materials: Incorporating natural materials like wood and wicker into your bedroom decor is a key element of achieving a coastal style. These materials help to create a warm and inviting space that feels connected to the outdoors. Wood furniture, such as a driftwood-inspired bed frame or nightstands, can add a rustic touch to the space. Wicker baskets, storage baskets, and other decorative items can also help to bring a bit of the beach into the bedroom.
Nautical Motifs: Adding nautical accents to your bedroom decor is another way to enhance the coastal vibe. Decor items such as anchors, ropes, and seashells can all be incorporated into the space to create a beachy atmosphere. Nautical-inspired bedding, such as a quilt with a lighthouse or anchor pattern, can also help to create a cohesive look.
Texture: Adding texture to a bedroom can help to create depth and interest in the space. Throw pillows and blankets are an easy way to add texture and create a cozy atmosphere. Consider using a mix of solid-colored and patterned items to create visual interest. Textural elements, such as a braided rug or woven wall hangings, can also be incorporated into the space to add depth and warmth.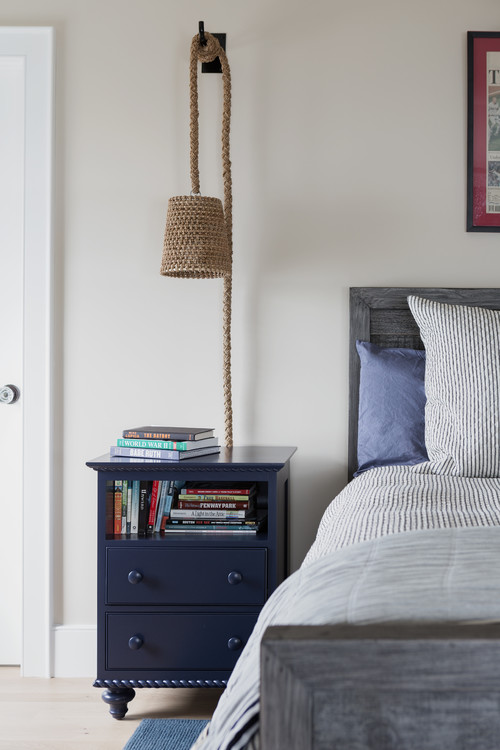 Finishing Touches:
Layering: Layering is an important aspect of creating a cozy and welcoming bedroom. By adding layers through window treatments, rugs, and wall decor, you can create a space that feels inviting and comfortable. Consider layering a variety of textures and patterns to add visual interest and depth to the space.
Window Treatments: Window treatments, such as curtains or blinds, can be used to add layers of texture and color to a bedroom. Light, airy fabrics, such as linen or cotton, can help to create a beachy vibe. Alternatively, consider using sheer or patterned window treatments to add visual interest and depth to the space.
Rugs: Rugs can be used to add warmth and texture to a bedroom. Natural fiber rugs, such as jute or sisal, can help to create a coastal vibe. Alternatively, consider using a patterned or textured rug to add visual interest and depth to the space.
Wall Decor: Wall decor, such as art, mirrors, or shelving, can be used to add layers of interest and personality to a bedroom. Coastal-inspired wall decor, such as artwork featuring beach scenes or nautical motifs, can help to enhance the beachy vibe of the space.
Plants: Placing plants in the bedroom can help to bring a bit of the outdoors in and create a fresh, beachy vibe. Consider using a variety of plants, such as succulents, ferns, or palms, to add a touch of greenery to the space. Overall, the finishing touches are a crucial aspect of creating a cohesive and inviting coastal style bedroom.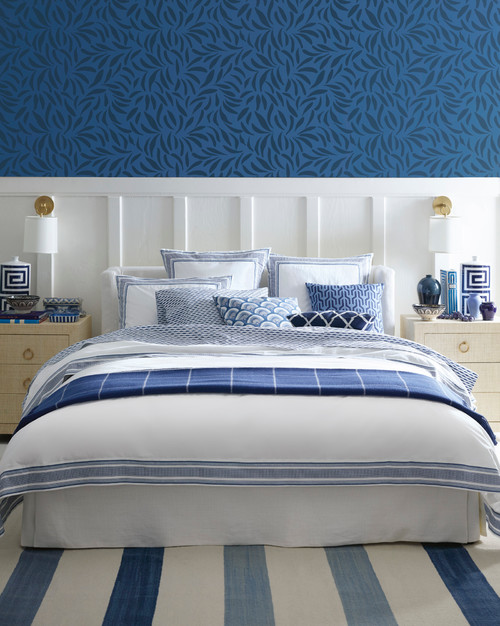 In Summary
Coastal style bedroom decor is all about creating a relaxing and natural space that feels connected to the beach. By choosing a cool, neutral color scheme and incorporating natural materials and nautical motifs, you can achieve the perfect beach-inspired look for your bedroom. Don't be afraid to experiment with different elements to find the perfect combination for your space.
More Coastal Style Decor
Affiliate Disclaimer: Some links on this page are affiliate links which means that, if you choose to make a purchase, we may earn a small commission at no extra cost to you. As an Amazon Associate, we earn from qualifying purchases.